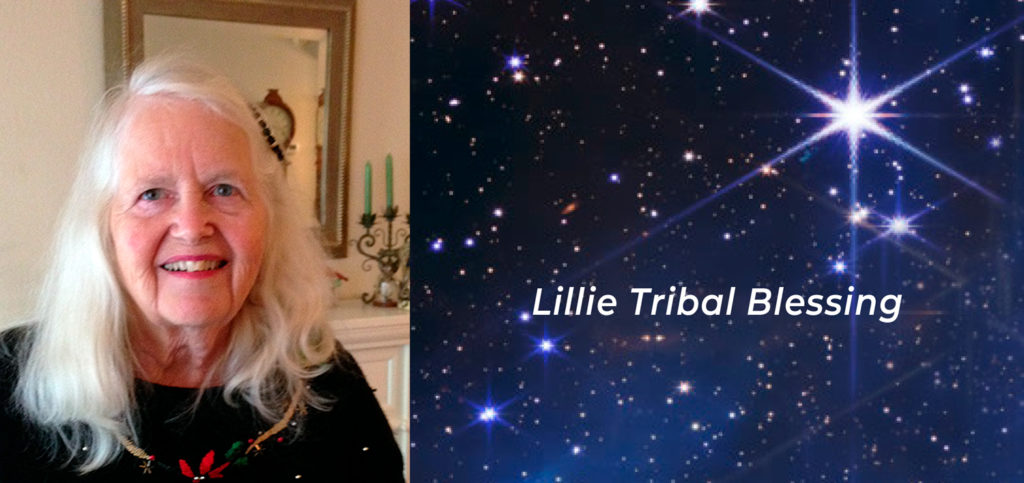 Aho Cherished Relatives,
Our beloved Lillie Tribal Blessing peacefully stepped through the Big Door early Friday morning (7/15).  Lillie has joined her long-time friend and mentor Will Star Heart in the journey to White Mountain and the Milky Way.
We will be praying, drumming and singing for her.  We invite you to join in Lillie's vision quest song where she received the nature name Guarded by Hawk.
Ho, Grandmother the Earth
Sundance Ranch, 1992
Ho, grandmother! Ho, first mother
Ho Grandmother the Earth
Heart fires burning, deep passions churning
For all your creatures on earth
Ho, grandmother! Ho, first mother
Ho Grandmother the Earth
Spin with your night star, wheeling and turning
Waltzing the dawn, a new day
Ho, grandmother! Ho, first mother
Ho Grandmother the Earth
Changing your reignment, donning the spring time,
Bringing new hope and new birth
Ho, grandmother! Ho, first mother
Ho Grandmother the Earth
Spread forth your mantle, filled with your bounty
Feeding your children so small
Ho, grandmother! Ho, first mother
Ho Grandmother the Earth
May I be thankful, ever respectful
May I walk humbly in truth
Ho, grandmother! Ho, first mother
Ho Grandmother the Earth
May I lie at your breast; fall into rest
Blessed by the Father of all
Ho, grandmother! Ho, first mother
Ho Grandmother the Earth
Heart fires burning, deep passions churning
For all your creatures on Earth